The Countdown: 20 Worst Buccaneers Personnel Moves Of The Past 10 Years — No. 2
July 29th, 2015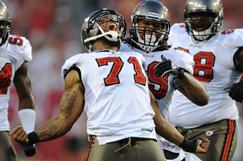 It's the countdown feature you've all been waiting for. Not really, but on the heels of last year's award-winning "20 Worst Buccaneers Of The Past 10 years" feature, Joe had to deliver.
A list like this is highly subjective and toxic. Fits of rage were common during production meetings at JoeBucsFan.com world headquarters. Scared interns soiled their pants. Full beer bottles were smashed, and a treasured Rachel Watson poster was accidently destroyed. But order was restored.
Current and former general managers and head coaches might not like what's coming, but it had to be done. This is what happens when your team is 30-70 in its last 100 games.
No. 2 — Michael Bennett
Let's think about this logically.
Michael Bennett proved to be a perfect fit for Greg Schiano in 2012. He was a monster defensive end against the run in the NFL's No. 1-ranked run defense, and Bennett led the Bucs with nine sacks. He also was versatile rushing inside and on the left edge.
Yet at just 27-years-old, the Bucs let him walk away in free agency, despite Bennett wanting to stay and play with his good friend Gerald McCoy, and despite the Bucs spending huge in free agency that year.
It was revealed after that '12 season that Bennett played through a shoulder tear, and the Seahawks signed him to a one-year deal for less than $5 million. In 2013, Bennett rewarded Seattle by leading them in sacks and wore a Super Bowl ring after that season.
So what the hell really happened in Tampa?
How could the Bucs let a talent like Bennett walk away, a guy that was developed in Tampa, after former Bucs rockstar general manager Mark Dominik signed Bennett off waivers midway through the 2009 season?
This remains one hell of a mystery.
Joe's heard a wild range of explanations from stellar sources, and Joe doesn't know what to believe, other than the move didn't make a lick of sense.
Make no mistake. Bennett wanted to return to the Bucs. But he was unwanted.
The company line from Greg Schiano was that it was Da'Quan Bowers' time to be a double-digit sackmaster. It was degrading chatter. Like Bucs fans were supposed to believe that the Bucs didn't have room for more pass-rush talent.
The Bucs are still recovering. Three seasons later, the Bucs don't have a defensive end of Bennett's caliber.
No. 5 — Cutting Darrelle Revis
No. 8 — Da'Quan Bowers (2011 and 2013)
No. 9 — Re-Signing Blocking Icon Michael Clayton
No. 11 — Michael "Ghost" Johnson
No. 13 — Free Agent Inactivity After 10-6, 2010 Season
No. 14 — Scaredy Cat Dexter Jackson
No. 16 — Choosing — And Drafting For — The Jim Bates Defense
No. 17 — Drafting Cadillac Williams Over DeMarcus Ware
No. 18 — Garrett Gilkey: Virgin Center