The Countdown: Worst 20 Buccaneers Personnel Moves Of The Past 10 Years – No. 19
July 9th, 2015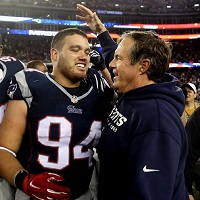 It's the countdown feature you've all been waiting for. Not really, but on the heels of last year's award-winning "20 Worst Buccaneers Of The Past 10 years" feature, Joe had to deliver.
A list like this is highly subjective and toxic. Fits of rage were common during production meetings at JoeBucsFan.com world headquarters. Scared interns soiled their pants. Full beer bottles were smashed, and a treasured Rachel Watson poster was accidently destroyed. But order was restored.
Bruce Allen, Jason Licht and former Bucs rockstar general manager Mark Dominik might not like what's coming, but it had to be done. This is what happens when your team is 30-70 in its last 100 games.
No. 19 — Cutting Chris Jones
Patriots defensive tackle Chris Jones sits atop the healthy list of pass rushers and defensive line talent that was fumbled away during the New Schiano Order.
Former rockstar general manager Mark Dominik dropped Jones and Bengals DE Wallace Gilberry in Schiano's lap, and the head coach didn't want them. Ironically, Schiano also had no use for current Bucs DE George Johnson, who was dumped by Schiano and the Bucs traded for him this offseason.
Jones was with the Bucs about 10 days after being claimed on waivers as a rookie in 2013. Tampa Bay dumped him in Week 2 and the Patriots pounced. Whaddya know! Jones had six sacks in 11 starts as a rookie, and now he has a Super Bowl ring.
The Bucs, apparently, chose to stick with veteran backup defensive tackles Derek Landri and Gary Gibson in 2013. Both were out of football in 2014.
Personnel guys and head coaches always talk about how pass rush talent is a top priority in the NFL. Greg Schiano and friends sure had a hard time figuring out what players actually had talent.