The Countdown: 20 Worst Personnel Moves Of The Past 10 Years — No. 13
July 15th, 2015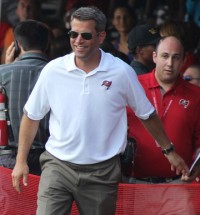 It's the countdown feature you've all been waiting for. Not really, but on the heels of last year's award-winning "20 Worst Buccaneers Of The Past 10 years" feature, Joe had to deliver.
A list like this is highly subjective and toxic. Fits of rage were common during production meetings at JoeBucsFan.com world headquarters. Scared interns soiled their pants. Full beer bottles were smashed, and a treasured Rachel Watson poster was accidently destroyed. But order was restored.
Current and former general managers and head coaches might not like what's coming, but it had to be done. This is what happens when your team is 30-70 in its last 100 games.
No. 13 — Free agent inactivity after 10-6, 2010 season
Many Bucs fans would sell their souls for a 10-6 record with a young roster and a thriving young QB.
Hell, if that happened this season or next, there might just be a freakin' parade down Dale Mabry Highway.
The Bucs had that kind of team in 2010, but few seemed to care enough. The Bucs were one bad call against the Lions from making the playoffs and an 11-5 record, which would have kept the eventual Super Bowl champion Packers at home for the postseason.
But the Bucs' front office not only decided against upgrading the team in 2011 free agency, they denied Raheem Morris the return of Barrett Ruud and Cadillac Williams. Those were veterans the runner-up for Coach of the Year wanted to keep in the face of a lockout shortened offseason.
Why did the Bucs pass on significant additions, outside of signing Michael Koenen? (if you can call a punter "significant")
Middle linebacker Paul Posluszny, for example, was out there for the taking (at nearly the same price the Bucs re-signed undeserving Quincy Black.) No, the Bucs weren't bidding for Posluszny, the eventual 2013 Pro Bowler. Instead, they decided to draft Mason Foster and start him out of position as a rookie at middle linebacker, without the benefit offseason work.
Is that how you manage a team on the cusp?
There were other free agents worth the risk, as well. And yes, Joe was on the Posluszny bandwagon back then.
Yeah, the Bucs didn't need seasoned, inspirational third-down back Cadillac Williams to help Josh Freeman. Oh, no, they had The Great Lumpkin in their sights, a Ted Thompson reject from Green Bay.
Joe could go on.
Joe has heard folks blame the 2011 edition of Team Glazer for not releasing the checkbook from the company vault. Joe can't confirm that, but it's awfully strange that the Bucs decided to become major league spenders just a year later.
No. 14 — Scaredy Cat Dexter Jackson
No. 16 — Choosing — And Drafting For — The Jim Bates Defense
No. 17 — Drafting Cadillac Williams Over DeMarcus Ware
No. 18 — Garrett Gilkey: Virgin Center