The Countdown: 20 Worst Buccaneers Personnel Moves Of The Past 10 Years — No. 4
July 26th, 2015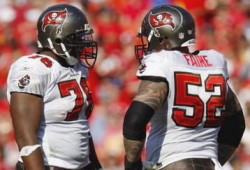 It's the countdown feature you've all been waiting for. Not really, but on the heels of last year's award-winning "20 Worst Buccaneers Of The Past 10 years" feature, Joe had to deliver.
A list like this is highly subjective and toxic. Fits of rage were common during production meetings at JoeBucsFan.com world headquarters. Scared interns soiled their pants. Full beer bottles were smashed, and a treasured Rachel Watson poster was accidently destroyed. But order was restored.
Current and former general managers and head coaches might not like what's coming, but it had to be done. This is what happens when your team is 30-70 in its last 100 games.
No. 4 — Trading Jeremy Zuttah
In the spring of 2015, the Buccaneers traded a solid, versatile, average-paid and durable (76 starts) 27-year-old offensive lineman named Jeremy Zuttah — for a fifth-round draft pick.
Joe's head is still shaking.
It was an unthinkable move at the time, and the ripple effect is still being felt.
If the concept of trading Zuttah for a throwaway draft pick wasn't a big enough red flag, then super Ravens general manager Ozzie Newsome being eager to make the deal should have been a clear sign of danger.
Zuttah was a team-first, good-guy Buccaneer, and one of the smartest guys on the team. He graduated early from Rutgers with an economics degree, and Joe remembers Davin Joseph and Chucky raving about how rookie Zuttah mastered Chucky's giant playbook at multiple positions before that 2008 season started.
Was anyone surprised that Zuttah was at the center of the Ravens' offensive line revival last year? He was in the middle of the last two excellent Bucs running games, in 2010 and 2012.
Imagine if Zuttah was still on this Buccaneers team. Heck, he could have held down right guard last year and this year, for example, like he did in '08 when Joseph was injured. His presence likely would have sent the Bucs in a different direction in Round 2 of the draft (no Ali Marpet) and provided needed depth through his versatility. Or, for example, the Bucs would have a better, smarter center for their rookie QB.
Yeah, all roads led to 2-14 and winning the Chase for Jameis. Hooray! But this mistake never had to happen.
When you have a good, homegrown football player, you keep him.
No. 5 — Cutting Darrelle Revis
No. 8 — Da'Quan Bowers (2011 and 2013)
No. 9 — Re-Signing Blocking Icon Michael Clayton
No. 11 — Michael "Ghost" Johnson
No. 13 — Free Agent Inactivity After 10-6, 2010 Season
No. 14 — Scaredy Cat Dexter Jackson
No. 16 — Choosing — And Drafting For — The Jim Bates Defense
No. 17 — Drafting Cadillac Williams Over DeMarcus Ware
No. 18 — Garrett Gilkey: Virgin Center