The Countdown: 20 Worst Buccaneers Personnel Moves Of The Past 10 Years — No. 9
July 20th, 2015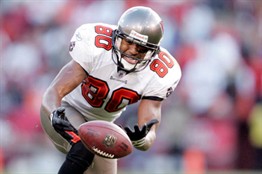 It's the countdown feature you've all been waiting for. Not really, but on the heels of last year's award-winning "20 Worst Buccaneers Of The Past 10 years" feature, Joe had to deliver.
A list like this is highly subjective and toxic. Fits of rage were common during production meetings at JoeBucsFan.com world headquarters. Scared interns soiled their pants. Full beer bottles were smashed, and a treasured Rachel Watson poster was accidently destroyed. But order was restored.
Current and former general managers and head coaches might not like what's coming, but it had to be done. This is what happens when your team is 30-70 in its last 100 games.
No. 9 — Re-Signing Blocking Icon Michael Clayton
Joe will keep this simple. The Bucs gave $10 million guaranteed to a wide receiver notorious for dropping the football. That can never happen.
Joe still can't believe former Bucs rockstar general manager Mark Dominik did such a thing shortly after he took office in 2009.
Heck, Dominik was gutting the team of Ike Hilliard, Warrick Dunn, Derrick Brooks and others, why not let the guy who spent years sending Bucs fans into fits of rage leave, too? The move would have been applauded by legions of fans.
But no, Dominik guaranteed Clayton a bunch of money. And a year later, he paid Clayton a chunk of that to not be on the roster.
Clayton got the "blocking icon" nickname from Joe after Dominik defended the Clayton signing, in part, because of his unique blocking prowess. Joe maintained that if you're selling a guy with the dropsies for his blocking ability, then that's a crater full of red flags.
After Clayton's magical rookie year of 2004, Clayton had 43 Bucs starts and only caught three touchdown passes, one of the most ugly stats in team history.
No. 11 — Michael "Ghost" Johnson
No. 13 — Free Agent Inactivity After 10-6, 2010 Season
No. 14 — Scaredy Cat Dexter Jackson
No. 16 — Choosing — And Drafting For — The Jim Bates Defense
No. 17 — Drafting Cadillac Williams Over DeMarcus Ware
No. 18 — Garrett Gilkey: Virgin Center