The Countdown: Worst 20 Buccaneers Personnel Moves Of The Past 10 Years — No. 16
July 12th, 2015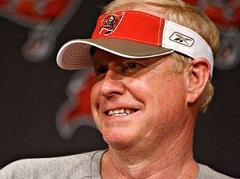 It's the countdown feature you've all been waiting for. Not really, but on the heels of last year's award-winning "20 Worst Buccaneers Of The Past 10 years" feature, Joe had to deliver.
A list like this is highly subjective and toxic. Fits of rage were common during production meetings at JoeBucsFan.com world headquarters. Scared interns soiled their pants. Full beer bottles were smashed, and a treasured Rachel Watson poster was accidently destroyed. But order was restored.
Current and former general managers and head coaches might not like what's coming, but it had to be done. This is what happens when your team is 30-70 in its last 100 games.
No. 16 — Choosing — And Drafting For — The Jim Bates Defense
Just like how experienced Bucs coaches and personnel gurus sat in a room last year and chose a backup center who had never ever played the position, it was mind-numbing when the Bucs' braintrust decided it had the personnel to hire and implement defensive coordinator Jim Bates' two-gap defense in 2009.
How was that decision even made?
Key veterans like Chris Hovan and Barrett Ruud were certain the team was ill-suited for the defensive change to Bates' defense.
And it even affected the Bucs in the draft. Tampa Bay selected linemen Roy Miller and Kyle Moore and literally ordered them to fatten up in a hurry. Both players will tell you the forced weight gain made them feel like crap and had long term effects on their careers.
Of course, Bates was defrocked midway through that 3-13 season — he never coached again — and the Bucs went back to the Raheem Morris version of what Monte Kiffin had perfected for so many years.
Hiring Bates was a colossal failure. Joe can't go there on this list with the Jeff Jagodzinski hire — the OC who literally couldn't call plays at the NFL level. Because the Jagodinski mess was cleaned up quickly and the Bucs offense was humming on all cylinders a year later.
No. 17 — Drafting Cadillac Williams Over DeMarcus Ware
No. 18 — Garrett Gilkey: Virgin Center