The Countdown: 20 Worst Buccaneers Personnel Moves Of The Past 10 Years — No. 6
July 23rd, 2015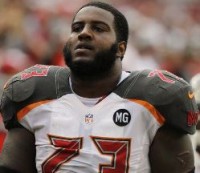 It's the countdown feature you've all been waiting for. Not really, but on the heels of last year's award-winning "20 Worst Buccaneers Of The Past 10 years" feature, Joe had to deliver.
A list like this is highly subjective and toxic. Fits of rage were common during production meetings at JoeBucsFan.com world headquarters. Scared interns soiled their pants. Full beer bottles were smashed, and a treasured Rachel Watson poster was accidently destroyed. But order was restored.
Current and former general managers and head coaches might not like what's coming, but it had to be done. This is what happens when your team is 30-70 in its last 100 games.
No. 6 — Anthony Collins
At face value, Anthony Collins himself wasn't an epic disaster at left tackle last year. He made some quality starts for the Bucs, and hey, not every free agent works out.
However, the Collins whiff was at the center of some very messy decision-making.
First, Lovie Smith and Jason Licht cut a legitimate NFL starter, an ironman starting left tackle in Donald Penn, who was a team-focused warrior and a former Pro Bowler. Penn didn't miss a start from 2007 through 2013.
In the face of so many Bucs fans and media bashing Penn, Joe repeatedly said Penn's 2013 film was solid and he was an asset that should have been retained. Even when Penn was abused by Robert Quinn in December 2013, he really wasn't dreadful in that game.
But the Bucs quit on Penn, who moved on to the Raiders. Rookie QB Derek Carr was sacked just 24 times in 16 starts with Penn protecting him, while Tampa Bay QBs were sacked 52 times.
Collins, before being overpaid by the Bucs, had never started seven games during an NFL season. And whaddya know, Collins made it through seven Bucs starts before riding the bench with minor injuries.
Collins returned for three November starts. But he was garbage, and then the Bucs benched him in December, likely because they feared he would be injured before they ditched him after the season.
The Penn-Collins screwup was no insignificant miss. It essentially forced the Bucs into drafting a left tackle in May — Donovan Smith at No. 34 overall.
Joe's praying Smith gets the job done. The last thing this franchise needs is the ghost of Donald Penn teaming up with the ghost of Simeon Rice.
No. 8 — Da'Quan Bowers (2011 and 2013)
No. 9 — Re-Signing Blocking Icon Michael Clayton
No. 11 — Michael "Ghost" Johnson
No. 13 — Free Agent Inactivity After 10-6, 2010 Season
No. 14 — Scaredy Cat Dexter Jackson
No. 16 — Choosing — And Drafting For — The Jim Bates Defense
No. 17 — Drafting Cadillac Williams Over DeMarcus Ware
No. 18 — Garrett Gilkey: Virgin Center