The Countdown: 20 Worst Buccaneers Personnel Moves Of The Past 10 Years — No. 7
July 22nd, 2015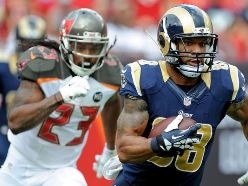 It's the countdown feature you've all been waiting for. Not really, but on the heels of last year's award-winning "20 Worst Buccaneers Of The Past 10 years" feature, Joe had to deliver.
A list like this is highly subjective and toxic. Fits of rage were common during production meetings at JoeBucsFan.com world headquarters. Scared interns soiled their pants. Full beer bottles were smashed, and a treasured Rachel Watson poster was accidently destroyed. But order was restored.
Current and former general managers and head coaches might not like what's coming, but it had to be done. This is what happens when your team is 30-70 in its last 100 games.
No. 7 — Mark Barron
Joe's adamant that thoroughly busting on a second-round draft pick is grounds for a whipping, like with Sabby The Goat, Dexter Jackson and Da'Quan Bowers below. So, of course, totally whiffing on a premier first-round pick is a worse crime.
Enter Mark Barron, the No. 7-overall pick in the 2012 NFL Draft. Aside from a few strong games, he looked more like a solid backup than a starter.
Former Bucs rockstar GM Mark Dominik and Greg Schiano were thinking Barron was the new prototype safety when they made him their first draft pick together. Barron was going to get physical and blanket Jimmy Graham and Tony Gonzalez, and he would be a ferocious hitter in the run game.
Never happened.
Barron got a fresh start with Lovie Smith, and he promptly was benched at the start of Game 3 of last preseason for an undisclosed bad act.
Weeks later, Bucs general manager Jason Licht fleeced the Rams and scored a fourth- and sixth-round pick at the trading deadline. After Barron was dealt, the defense improved with undrafted safety Bradley McDougald.
The only reason Barron was slotted here and not higher is because the 2012 NFL Draft was littered with busts in the first round. That's no excuse, but it kept Barron from further shame in The Countdown.
No. 8 — Da'Quan Bowers (2011 and 2013)
No. 9 — Re-Signing Blocking Icon Michael Clayton
No. 11 — Michael "Ghost" Johnson
No. 13 — Free Agent Inactivity After 10-6, 2010 Season
No. 14 — Scaredy Cat Dexter Jackson
No. 16 — Choosing — And Drafting For — The Jim Bates Defense
No. 17 — Drafting Cadillac Williams Over DeMarcus Ware
No. 18 — Garrett Gilkey: Virgin Center