The Countdown: 20 Worst Buccaneers Personnel Moves Of The Past 10 Years — No. 5
July 25th, 2015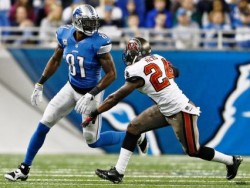 It's the countdown feature you've all been waiting for. Not really, but on the heels of last year's award-winning "20 Worst Buccaneers Of The Past 10 years" feature, Joe had to deliver.
A list like this is highly subjective and toxic. Fits of rage were common during production meetings at JoeBucsFan.com world headquarters. Scared interns soiled their pants. Full beer bottles were smashed, and a treasured Rachel Watson poster was accidently destroyed. But order was restored.
Current and former general managers and head coaches might not like what's coming, but it had to be done. This is what happens when your team is 30-70 in its last 100 games.
No. 5 — Cutting Darrelle Revis
Don't try to convince Joe that releasing a surefire Hall of Fame player in his prime is ever a wise move.
It's not.
Spin cutting Revis however you wish. He should have been an impact difference-maker for the Bucs for years — in a division with superstar quarterbacks and receivers.
The Bucs specifically stated they cut Revis in order to have money to buy more free agents. Think about that lunacy.
And please don't tell Joe that Revis wasn't a good fit for Lovie Smith's defense. Adjust, Lovie, it's what good coaches do best.
No. 8 — Da'Quan Bowers (2011 and 2013)
No. 9 — Re-Signing Blocking Icon Michael Clayton
No. 11 — Michael "Ghost" Johnson
No. 13 — Free Agent Inactivity After 10-6, 2010 Season
No. 14 — Scaredy Cat Dexter Jackson
No. 16 — Choosing — And Drafting For — The Jim Bates Defense
No. 17 — Drafting Cadillac Williams Over DeMarcus Ware
No. 18 — Garrett Gilkey: Virgin Center