"A Few" Wounded Buccaneers?
July 29th, 2015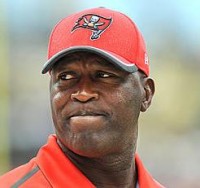 Last night, following Jason Licht's Town Hall event on WDAE-AM 620, a question was posed to the general manager about whether the entire roster would be healthy and ready to play football on Saturday when training camp begins.
Licht did not say, "Yes."
What Licht did say was, "There may be a few [unable to practice Saturday], but we're not going to release that right now. Overall, we're excited about the health."
So who's hurt?
Joe asked rookie wide receiver Kenny Bell early Tuesday about the injury that kept him out of several spring practices. Bell told Joe it was a hamstring issue that he finished rehabbing this summer in Nebraska. Bell labeled himself 100 percent.
Joe hopes all the Bucs are healthy, but Licht's answer was unsettling. Joe can only speculate — and pray the health issues aren't among the men tasked with protecting Jameis Winston, America's Quarterback.