The Countdown: 20 Worst Buccaneers Personnel Moves Of The Past 10 Years — No. 18
July 10th, 2015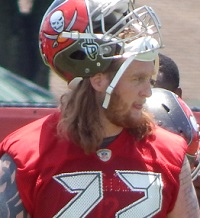 It's the countdown feature you've all been waiting for. Not really, but on the heels of last year's award-winning "20 Worst Buccaneers Of The Past 10 years" feature, Joe had to deliver.
A list like this is highly subjective and toxic. Fits of rage were common during production meetings at JoeBucsFan.com world headquarters. Scared interns soiled their pants. Full beer bottles were smashed, and a treasured Rachel Watson poster was accidently destroyed. But order was restored.
Current and former general managers and head coaches might not like what's coming, but it had to be done. This is what happens when your team is 30-70 in its last 100 games.
No. 18 — Garrett Gilkey: Virgin Center
This move is relatively insignificant in Bucs history, but it's so stunning, so unthinkable, that it deserves a spot in the rankings. Somehow, someway, Lovie Smith and Jason Licht deemed it acceptable to employ a backup center who had never played the position.
That's right. There was no high school, college or NFL preseason experience at center for Garrett Gilkey when he started for the Bucs last season in Week 13 against the Bengals. Keep in mind Tampa Bay was still in the playoff hunt!
Bad snaps and a sea of penalties marred Gilkey's debut in the Bucs' one-point loss. Mike Evans was so mad at Gilkey he apologized after the game for confronting him and said, "I lost my head."
Evans' disbelief and rage was misguided. It's not Gilkey's fault he was asked to do a critical job for which he was not prepared.