The Countdown: 20 Worst Buccaneers Personnel Moves Of The Past 10 Years — No. 10
July 19th, 2015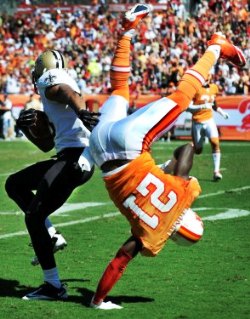 It's the countdown feature you've all been waiting for. Not really, but on the heels of last year's award-winning "20 Worst Buccaneers Of The Past 10 years" feature, Joe had to deliver.
A list like this is highly subjective and toxic. Fits of rage were common during production meetings at JoeBucsFan.com world headquarters. Scared interns soiled their pants. Full beer bottles were smashed, and a treasured Rachel Watson poster was accidently destroyed. But order was restored.
Current and former general managers and head coaches might not like what's coming, but it had to be done. This is what happens when your team is 30-70 in its last 100 games.
No. 10 — Eric Wright
When the Bucs signed cornerback Eric Wright as the free agency dinner bell rang in March 2012, Wright was a B-list talent with a shady past. But the Bucs paid Wright A-list money.
It was Pro Bowl money for a guy who had never been close to being a Pro Bowler — $15 million+ guaranteed, and his contract was for about $37 million over five years.
What was most comical about this signing is it came when Greg Schiano and former Bucs rockstar general manager Mark Dominik were preaching about "Buccaneer Men," well behaved character guys that would shape the organization going forward.
Six months later, Wright was suspended four games for substance abuse. Wright also was arrested twice before his Bucs career ended.
When the 2012 Bucs — still in the playoff hunt with a 6-7 record — headed to New Orleans for an epic slaughter, 41-0, Wright took to Twitter a day earlier to tell his followers he was off to a California spa for the weekend for shopping and dining because he needed a change of pace.
What a Buccaneer Man!
Did Joe mention the Bucs' 2012 secondary was ranked last in the NFL and just missed being the worst in league history. Wright made 10 starts for that group.
There were two good things about Wright. The Bucs escaped paying him half his guaranteed money because of the drug suspension. And then there was this one play at the Meadowlands, one of the best individual efforts in team history. Joe can't take that away from Wright, who retired after the 2013 season.
No. 11 — Michael "Ghost" Johnson
No. 13 — Free Agent Inactivity After 10-6, 2010 Season
No. 14 — Scaredy Cat Dexter Jackson
No. 16 — Choosing — And Drafting For — The Jim Bates Defense
No. 17 — Drafting Cadillac Williams Over DeMarcus Ware
No. 18 — Garrett Gilkey: Virgin Center