The Countdown: Worst 20 Buccaneers Personnel Moves Of The Past 10 Years — No. 12
July 16th, 2015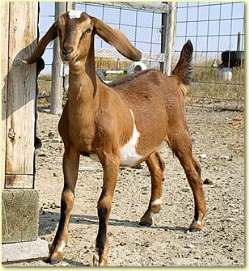 It's the countdown feature you've all been waiting for. Not really, but on the heels of last year's award-winning "20 Worst Buccaneers Of The Past 10 years" feature, Joe had to deliver.
A list like this is highly subjective and toxic. Fits of rage were common during production meetings at JoeBucsFan.com world headquarters. Scared interns soiled their pants. Full beer bottles were smashed, and a treasured Rachel Watson poster was accidently destroyed. But order was restored.
Current and former general managers and head coaches might not like what's coming, but it had to be done. This is what happens when your team is 30-70 in its last 100 games.
No. 12 — Sabby The Goat
What great twisted comedy was Sabby The Goat, a Bucs second-round pick in 2007. He was such a terrible safety in coverage that he often didn't appear on the television screen.
Fans would bitch about cornerbacks getting beaten and then head coach Raheem Morris used to explain that the Bucs actually were playing Cover-2 defense — as in the safety wasn't in the same zip code, so don't blame the corners.
Good ol' Sabby The Goat also took horrible angles to the football most of the time. He'd line a guy up and flat out miss him. Sabby The Goat wasn't much of a hitter or tackler, either. He was the perfect trifecta of a lousy safety.
NFL teams just can't fail on second-round picks and be successful. That's a theme pulsing through this list.
For some reason, the Bucs' braintrust gifted Sabby The Goat a starting job in 2009. Before that season was finished, Raheem Morris was talking publicly about how he had to "fix and deal with" Sabby in the offseason.
After all that, like the goat he was, Sabby cried that he unfairly lost his starting gig in 2010. And Raheem talked about getting physical with Sabby before he was cut.
The Bucs drafted a guy who was a fraud of a safety. These days, Sabby The Goat continues the art of pretending as a professional wrestler.
And to think legions of Bucs fans actually compared Sabby The Goat to John Lynch.
No. 13 — Free Agent Inactivity After 10-6, 2010 Season
No. 14 — Scaredy Cat Dexter Jackson
No. 16 — Choosing — And Drafting For — The Jim Bates Defense
No. 17 — Drafting Cadillac Williams Over DeMarcus Ware
No. 18 — Garrett Gilkey: Virgin Center