The Countdown: 20 Worst Buccaneers Personnel Moves Of The Past 10 Years — No. 1
July 30th, 2015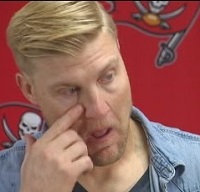 It's the countdown feature you've all been waiting for. Not really, but on the heels of last year's award-winning "20 Worst Buccaneers Of The Past 10 years" feature, Joe had to deliver.
A list like this is highly subjective and toxic. Fits of rage were common during production meetings at JoeBucsFan.com world headquarters. Scared interns soiled their pants. Full beer bottles were smashed, and a treasured Rachel Watson poster was accidently destroyed. But order was restored.
Current and former general managers and head coaches might not like what's coming, but it had to be done. This is what happens when your team is 30-70 in its last 100 games.
No. 1 — Josh McCown
This list is about personnel moves. And there is no more critical move than at the most important position on the field: quarterback. Decisions there must make sense.
Signing Josh McCown to be the Buccaneers' starter last year fell under the category of nonsense.
What the hell was the plan or the expectation?
McCown had been a career NFL loser, hadn't been a regular starter since 2007, and Lovie Smith himself cut the guy a few years ago in Chicago because he preferred Jason Campbell to be his Bears backup.
What exactly did the Bucs expect of McCown at 35 years old? Yes, he put up excellent numbers in five starts with the 2013 Bears. But that doesn't mean you hand the guy the keys to the offense and ask him to make you a Super Bowl team. That's what the Bucs did.
The plan — and don't let anyone tell you otherwise — was to win with McCown. Joe's not sure how Lovie Smith sat in his famous Chicago basement for a year and came up with that as the foundation move for his new regime. And nobody could talk him out of it?
Regular readers here will remember that Joe hoped McCown was signed as an ideal complement to whatever quarterback the Bucs drafted last year. Joe yearned for Johnny Football or Teddy Bridgewater to be selected. McCown would have been a great guy for that situation.
Instead, McCown played like a rookie in his first two starts, and his veteran leadership marched Tampa Bay to slaughter on national television in Week 3 in Atlanta. The season was on the line — and pride — and McCown soiled himself against a bad defense.
But no, not only did the Bucs expect to win with McCown, Lovie re-inserted McCown into the lineup after the 2014 season was long lost in early November, following McCown's thumb injury. That foolishness took valuable developmental reps away from Mike Glennon. You remember him, that's Lovie's "quarterback of the future."
Like every good Hollywood movie, the McCown misery had an uplifting and invigorating ending; the Bucs won the Chase for Jameis. But that victory doesn't detract from the lunacy that led the Bucs there.
Joe hopes you enjoyed the countdown. Go Bucs!
No. 2 — Michael Bennett Leaves
No. 5 — Cutting Darrelle Revis
No. 8 — Da'Quan Bowers (2011 and 2013)
No. 9 — Re-Signing Blocking Icon Michael Clayton
No. 11 — Michael "Ghost" Johnson
No. 13 — Free Agent Inactivity After 10-6, 2010 Season
No. 14 — Scaredy Cat Dexter Jackson
No. 16 — Choosing — And Drafting For — The Jim Bates Defense
No. 17 — Drafting Cadillac Williams Over DeMarcus Ware
No. 18 — Garrett Gilkey: Virgin Center