High Praise For Lavonte David
July 26th, 2015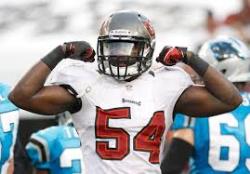 Good Sunday morning to you all.
Joe has a surprise. Based on the intricate data Joe receives about readers and their patterns (Joe know exactly what fans like to read), Joe's going to go all positive here, which is bad for business when the Bucs are losing.
Joe guesses he could spin the following as vindication, which isn't really positive but more revenge. It seems the wailing of Bucs fans may finally be ringing in folks ears.
The wailing? That would be the gross oversight of Bucs stud linebacker Lavonte David. He has yet to make a Pro Bowl — that's not on fans — and Joe knows that David is frustrated because his stellar play does not rank him among the elite linebackers of the game.
That seems to be changing.
In a piece on the top 100 players in the NFL, Bill Barnwell, typing for Grantland.com, has David in the top-third of his top 100 and goes on to believe David may be the most overlooked player in the league.
31. Lavonte David, LB, Buccaneers (56)

He's quite possibly the most underrated player in football, since the biggest moment of his career was that very questionable personal-foul penalty that cost the Buccaneers a game against the Jets in Week 1 of 2013. David led all outside linebackers in solo run tackles (59) in 2013, then topped it by leading players at all positions in solo run tackles (61) last year. He was also sixth in tackles for loss (17), which is remarkable for a player who rarely rushes the quarterback. After Watt, David is the best run defender in football.
Wow! Only J.J. Watt is better against the run? That is some significant high praise there, folks.
Reading this reminds Joe of talking to Gil Brandt about David two years ago. The famed architect of the 1970s Cowboys dynasty was at a Super Bowl media cattle call and Joe mentioned David's name, and Brandt stood back and said, "Ooohhh… he's sssooo good."