Bucs Bank On Video Games
July 20th, 2015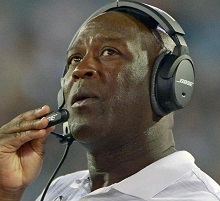 Joe's heard that virtual reality activities have brought happiness to many healthy men. And Joe's seen how teenagers learn to drive via extraordinarily expensive and comprehensive virtual reality technology.
So Joe's all for it.
Your Tampa Bay Buccaneers made it official today: they will bank on new technology to help Jameis Winston, Mike Glennon get better — faster.
"We are excited to be coming in on the front end of this new wave of technology that is designed to supplement the on-field and classroom work that our quarterbacks are already doing," general manager Jason Licht said. "Obviously, there is no real substitute for being on the field when it comes to getting our players ready for game action. However, this virtual reality technology allows us to enhance the learning experience for our quarterbacks without requiring them to put in additional time on the practice fields."
Kudos to the Bucs and Team Glazer for being on the cutting edge. In June, Alex Marvez of FOX Sports reported the Bucs were moving quickly to study providers of this technology and settle on one.
How soon the Bucs will be able to take full advantage of their new technology is unclear. It's got to be a massive programming effort to have every nuance of Dirk Koetter's offense in the mix.