"Siege" Alert
July 20th, 2015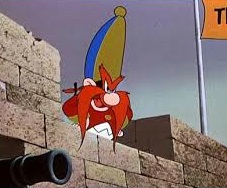 Joe confesses to purchasing a living dinosaur on Sunday, that would be a traditional newspaper called The Tampa Tribune.
It was extremely enjoyable reading, except the sports section was downright puzzling.
First, in those eight pages of sports reading was not one paragraph about the most popular team in town, the Buccaneers. (And local newspaper leaders wonder why they're struggling.)
Second, there was a full-page advertisement with bold letters stating, "The Siege Is Coming." And there were a couple of inspirational sentences under that referencing how "a new day is upon us" and people are about to unite for something. Then it tells readers to visit JoinTheSiege.com.
Ok, Joe figured it was some sort of bizarre Buccaneers print ad that failed to include the men who will excite fans and put butts in the seats, Mike Evans and "America's Quarterback," Jameis Winston.
This afternoon, Joe was cruising U.S. Highway 19 in Palm Harbor and saw a similar "Siege" digital billboard with a running countdown clock pegged at 55 days and a few hours.
Yes, this is a comprehensive Buccaneers advertising campaign. No Jameis, just a lot of talk about "The Siege."
Frankly, Joe doesn't get it. Sure, it's mildly catchy and may arouse very casual fans, but it has left Joe shaking his head.
Not hammering to the public the fact that America's Quarterback is in Tampa feels almost as ludicrous as having Josh McCown start at quarterback after an 0-3 start and a significant injury.
But that insanity landed Jameis, so perhaps this ad campaign will deliver historic results, too.