Devin White Cites Camaraderie And Film Study
August 5th, 2023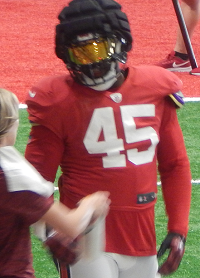 How is the vibe different among Bucs players this summer?
No, Joe is not talking about the many Bucs saying the only change without Tom Brady is the team being ignored by media.
In Joe's 1-on-1 with Devin White this week, he referenced an enhanced camaraderie on the roster.
White talked about all the time guys are spending together sequestered during training camp at the team hotel, and how much guys are bonding through various down times at One Buc Palace.
Some of that includes an obsession with film study.
"People are probably on their iPads right now trying to see where they messed up [in practice]. So everybody's just trying to get better," White said.
Joe heard from other Bucs about what feels like slightly more hyper-attention to detail this training camp. On offense, that's very much about a new offense being installed and new coaches to impress. On defense, the Bucs are trying to fix a run defense that failed the club last season.
For White, he's just more dedicated to football overall since the horn sounded on the 2022 season.
It smells to Joe that one layer of the 2023 Tom Brady Effect is nobody on the team taking anything for granted. No more savior vibe from the No. 12 jersey.