Lavonte David Downplays Departure Of Tom Brady
August 3rd, 2023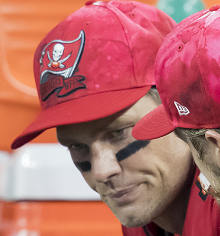 The pattern of Buccaneers acting like Tom Brady leaving the team has made no impact continues.
Perhaps it's because no impact is being felt.
Iconic Bucs linebacker and longtime team captain Lavonte David jumped on the bandwagon today during an interview with CBS Sports HQ.
Here's the verbatim exchange:
Pete Prisco: After being here and playing with Tom Brady for the last few years, how different is it with him not being here and now you have a quarterback competition?

Lavonte David: The only difference is, man, just, you know, that the hype died down; I guess. When you bring in Tom Brady, it comes with a lot of hype. You know what I'm saying, a legendary quarterback, a guy who played the game for 23 years at a high level. And to his own right, he deserves all the praise that he gets. But now that he's gone, we kind of got written off a little bit with the two guys that we do have: Baker [Mayfield] and Kyle Trask … …"
So the greatest quarterback in history walks out of the building and David, like Anthony Nelson before him, says the only difference is less media hype.
That comes on the heels of  Carlton Davis lashing out because so many people think the team will be worse without Brady, and Mike Evans telling Ira Kaufman that the 2022 offense "played bad all year."
Anyone sense a theme?