Devin White Says He Dedicated More Of His Offseason To Football
July 31st, 2023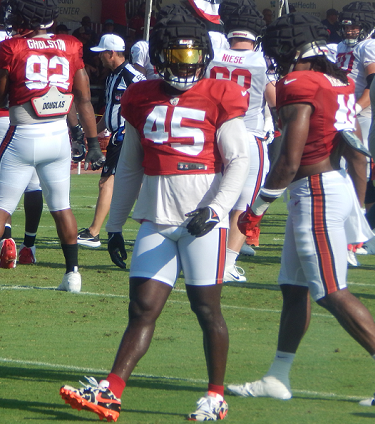 Devin White hadn't done an interview since asking to be traded several months ago. Today he talked to Joe.
Only football-related discussion was on the record, but Joe will say that White is highly focused and dialed in on sticking to football, which seems like the ideal approach.
As fans know, White skipped the Bucs' voluntary spring practices. He attended mandatory June mincamp but did not practice. However, when the bell rang on minicamp, he was raring to go and hasn't taken a day off or shared reps.
White also has been good with fans signing autographs. Today he even signed for a while, stepped away and said goodbye to fans to get a drink and chill, and then he came back to sign more.
Joe asked White what he did with his offseason away from the team, and White had an interesting reply considering he was a no-show for the team's spring work.
"I dedicated this offseason a lot more to football. I got on the field and did more drill work, and a lot of hip mobility stuff just being able to be crisp in and out of my breaks, and just training to be able to go for the long haul and feeling better," White said. "And I changed up my diet a little bit so I could feel even more better on the field and be stronger in the fourth quarter."
White added that there are ways to stay connected with teammates without being at team headquarters.
On what he's seeing from the 2023 defense: "I feel like the defense the energy and the effort is there, I think we just need to hone in on the details a little more, communication so we can be extra sharp. One thing we're trying to do is get back to being solid in the run game."
On rookie inside linebacker SirVocea Dennis, who has been a ballhawk in camp: 
"I think he's a great young player. He comes in with the ability to play and ability to listen and learn. And I think that'll help him go far in this league, you know, especially on this team because we need all hands on deck to be able to win games. We gotta do it any every form or fashion, like whatever way we gotta get it done.
Joe will have more from White tomorrow.