"That's Father Fuc*'n Ridiculousness"
December 19th, 2022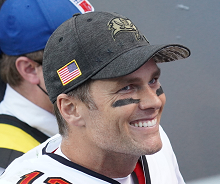 Tonight Tom Brady explained his fumbled handoff to Leonard Fournette in the third quarter of yesterday's collapse against the Bengals.
It wasn't G-rated.
Brady was chatting with Snoop Dogg on Brady's Let's Go! show on SiriusXM Mad Dog Radio when he referenced the bad exchange. Brady explained the ball literally was an inch from Fournette when it squirted out of his hand, something that had never happened in his long football life.
Snoop Dogg cut off Brady and asked him, "Is that Father Time? Did he put his hand in the breadbasket?"
Brady laughed quickly and loudly before responding, "No, that's Father Fuc*'n Ridiculousness is what it is. That has nothing to do with anything Father Time; that's just nonsense."
Earlier in the show Brady owned up to his four turnovers yesterday and sort of explained that the Bucs are not pointing fingers. He said he'll be working his ass off to get things right because if a player doesn't, then he's a loser.