Dick Vitale Goes Off On "HORROR SHOW" Bucs
December 20th, 2022
You know it's bad when your biggest booster has turned on you.
Joe is so very fortunate in this line of work to have met all kinds of fantastic people over the years. Some famous, so many, many more not famous.
Perhaps at the top of the list is Dick Vitale. The basketball Hall of Fame analyst resides in Sarasota and is a huge supporter of local teams (he's been a Rays season ticket holder from Day 1 and has a suite at Bucs games).
Once upon a time, Joe did not like Vitale, knowing him only as a basketball broadcaster. Joe thought his schtick was fake and way over the top.
Then Joe met Vitale and crossed paths with him maybe a dozen times over the years. Joe has never met a more kind, genuine person. He's a huge star, but he never, ever big leagues anyone. He's not one of the many phonies who work in the electronic media, especially nationally. Once Joe got to know Vitale, Joe became a big fan.
Vitale is 100 percent authentic, 100 percent real. What you see of him on TV is exactly the same guy you run across in a Sarasota diner. He is totally passionate about the game of hoops. Dude is high on life.
Vitale's tireless charity work for juvenile cancer research is beyond reproach.
So yesterday when Joe noticed Vitale's Twitter feed, Joe did a double-take like a Looney Tunes cartoon. Vitale blasted the Bucs and their pathetic play in a series of Twitters Sunday while he was at the game at The Licht House.
Whoa! See for yourself.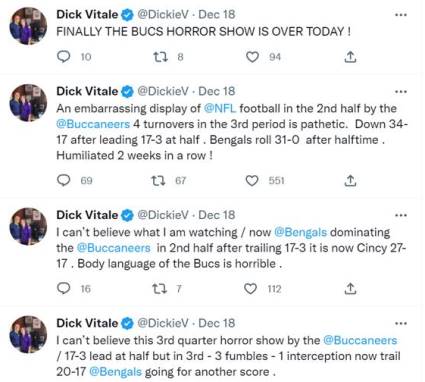 For Vitale, who is the epitome of a positive guy, to destroy the Bucs like that — he's not wrong, BTW — really took Joe aback. If a Mr. Positive fellow like Vitale is that upset and fed up, imagine what other Bucs fans are feeling who don't have Vitale's star power and forum?
Joe doesn't blame Vitale one bit. This team, specifically the offense, is so poorly coached. Guys look like they are going through the motions. Checked out.
Joe can't kill the defense. Despite all the injuries, the defense is playing decently.
Vitale is a former high school, college and NBA coach and a hoops analyst for ESPN now in his sixth decade (!). He knows what he is seeing from athletes. So the "body language" line really jumped out.
Have the Bucs, with three games left and still atop the putrid NFC South, packed it in mentally? Has failing offensive coordinator Byron Leftwich lost his offense? Has Todd Bowles lost the team?
Joe pointed this out on Twitter yesterday: Had it not been for Tom Brady's magic against two awful teams like the sorry Rams and the slimy Saints, the Bucs would have been 1-8 since (barely) beating the Dixie Chicks in October.
That's Raheem Morris and Greg Schiano kinda stuff there. And neither had remotely the same talent that is on the current Bucs roster.
Rah got bounced after ending 2011 with 10 straight losses. Former Bucs commander Schiano began the 2013 season 0-8. And we both know what happened to those two when things went south.