Countdown: Top 10 X-factors For 2018 – No. 3
July 23rd, 2018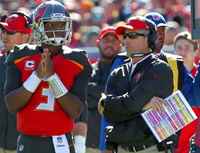 Only three days until training camp starts at One Buc Palace!! 
That means we're up to No. 3 on the mighty countdown of the 10 X-factors for your 2018 Buccaneers season.
Enjoy!
No. 3 – Jameis Winston
Aaron Rodgers, Matthew Stafford, Russell Wilson, Matt Ryan, Cam Newton, Drew Brees, Carson Wentz, Jared Goff, you could easily make a strong case that all of those NFC quarterbacks are better than Jameis. That's half the starting QBs in the conference.
And you'll easily find reasoned NFL analysts who claim Jimmy Garoppolo, undefeated in seven starts, is better than Jameis in many ways. Heck, Redskins quarterback Alex Smith is 69-31-1 as a starter through the last seven seasons. That's no typo.
So in a quarterback-driven league, it's a no-brainer that the 2018 fate of the Bucs is very much riding on the back of Jameis. He must emerge successfully from the mediocre class of NFL starters.
Jameis is a good NFL quarterback, but what good is that when most of your opponents have a better one?
What scares Joe is all the endless chatter from Bucs officials about how Jameis' work ethic has been extraordinary since he entered the NFL. Jameis himself has said his work rate is "unparalleled." So if Jameis works like no other and possesses his renowned football IQ, then why does he make too many boneheaded mistakes and decisions? Something does not add up.
Regardless, Jameis has all the necessary talent required — and around him — to succeed this season.
And as Joe has written several times, Jameis and his playcaller return for a rare fourth consecutive season together. No other NFC playcaller/QB tandem can claim that level of continuity. (Sean Payton and Mike McCarthy each relinquished that duty for a stretch but then went back to it.)
Jameis' deep knowledge of the offense must translate to touchdowns this season.
If Jameis wasn't suspended for the first three games, then he'd be No. 1 on this countdown.
It truly is a make-or-break year for him and the franchise. Outside of former Texans quarterback David Carr, good luck finding a Day 1 NFL starting QB in the modern era who got a fifth season with the same team after missing the playoffs in his first four years.
No. 4 – Rookie Corners 
No. 5 – Jason Pierre-Paul
No. 6 – Todd Monken Impact 
No. 7 – Ronald Jones
No. 8 – Contract Years
No. 9 – Ryan Fitzpatrick
No. 10 – Noah Spence
And just in case you missed Saturday's series introduction, here are four guys you won't see on The Countdown and why.