Countdown: Top 10 X-Factors For 2018 – No. 10
July 15th, 2018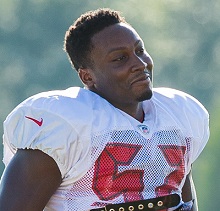 It's a fun football Sunday as Joe kicks off a daily countdown look at the top 10 X-factors for your 2018 Buccaneers season.
Joe is pumped! Training camp is just 11 days away.
No. 10 – Noah Spence
Some might have placed Spence higher but Joe can't get too crazy with Spence. Exactly how much is he going to play? You gotta be on the field to be an X-factor.
A healthy Jason Pierre-Paul will demand a ton of reps. Also, the Bucs are paying newcomer Vinny Curry $6.5 million this season, and Will Gholston is hauling in the same cash as Curry. Recently, someone with deep knowledge of the situation speculated that Gholston could be the Bucs' comeback/surprise player of the 2018.
Still, Spence is a talented wild card coming off a unique shoulder surgery following an injury that sidelined him for 14 games last year. If you can rush the passer in the NFL, you're a valuable dude, and Spence has flashed the talent.
Joe still can't figure out why Spence chose to drop to under 230 pounds a year ago. Think about it. He came out of college as an undersized defensive end at 251 pounds. Trust Joe; nobody at One Buc Palace ordered him to lose that kind of weight. He was never fat to begin with.
Joe expects Spence to shine at training camp (he's good at that) and create challenging decisions for new defensive line coach Brentson Buckner.
In case you missed yesterday's series introduction, here are four guys you won't see on The Countdown and why.