Crunch Time At The Top
July 23rd, 2018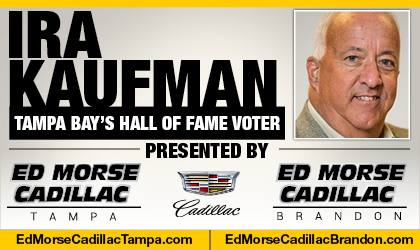 BY IRA KAUFMAN
In two days, veteran players are slated to report to One Buc Place.
They'll hit the weight room, hit the field, hit the hydrotherapy pools and hit the chow line.
Soon, they will be competing for playing time and a spot on the final roster.
Just up the stairs, a couple of other veterans will be plotting a battle plan designed to keep their jobs beyond the 2018 season.
The Hard Knocks cameras may be gone, but the hard truth is that Jason Licht and Dirk Koetter are running out of time to convince the Glazers they are the right leaders for this organization.
A 5-11 season leaves both men with much to prove.
Licht, 47, has made some astute draft selections since replacing Mark Dominik in 2014, but his free-agent portfolio is thin and Tampa Bay is 22-42 under his direction.
Koetter, 59, is 14-18 as an NFL head coach and the Buc offense has stagnated since he was promoted from coordinator status. He was Licht's call in 2016 to replace Lovie Smith.
"We wanted an experienced teacher," Licht said at Koetter's introductory press conference. "More importantly, we wanted somebody that would establish a winning culture that eventually would bring world championships to Tampa. In Dirk Koetter were all those things."
Thirty months later, Koetter and Licht appear tied at the hip pad.
With team success, both men figure to be rewarded with contract extensions. But another last-place finish in the division figures to be their ticket out of town.
Licht says he feeds off adversity.
"I like it because my whole life, I've always operated best under pressure, under adverse circumstances," he says.
Consider yourself under pressure, Jason.
Clear Understanding
Licht insists he's learned from his early mistakes as a GM. He regrets veering away from his basic philosophy while trying to win the 2014 offseason.
"I was never around an organization that did it that way," he says of his reliance on free agency. "I accept responsibility for it. It took me back to what my core values and beliefs are regarding free agency — you can't buy a championship, you've got to build one."
One of Licht's best friends in the business is Howie Roseman, who just lifted the Vince Lombardi trophy as Executive VP of Football Operations for the Eagles.
"Jason comes from the school that you're never going to force a player on your coach," Roseman says of his former co-worker in Philadelphia. "You talk about where Jason's been, whether it's Bill Belichick or Andy Reid or Bruce Arians, he's a coach's best friend. Jason has learned from the best in the business and he knows how to build teams."
When the 2017 season ended, Koetter singled out a dismal pass rush as Tampa Bay's top priority. Licht responded by adding five new defensive linemen through free agency, trade and the draft.
The No. 2 concern was lackluster efficiency in the red zone.
That's on Koetter's plate to fix, and he started the repair job by elevating Todd Monken from receivers coach to offensive coordinator. And while Koetter will still call the plays, Monken's enhanced role should help the Bucs maximize their many weapons.
Embedded Strain
"I love being involved with the quarterback," Koetter said on the day he was introduced as head coach. "That's my No. 1 area of expertise, working with the quarterback. Our lead guy, Jameis, wants to be coached and he is eager to be here."
With Ryan Fitzpatrick under center for at least the first three games, the Koetter-Winston dynamic will be put to the test this fall.
If their relationship wasn't strained before, it's strained now. How could it not be?
At this point, it's all about getting this team ready for New Orleans.
That's where we'll see if the Bucs can live up to their new slogan: Wreak Havoc.
"The No. 1 thing I have to do better is I have to help our guys figure out a way to win," Koetter says.
In playoff-starved Tampa, those are words to live by.
Now in his 40th year covering the NFL , Ira Kaufman is the most revered sports personality and writer in the Tampa Bay area. He scored a full-time seat at JoeBucsFan.com world headquarters in July of 2016. Tampa Bay's only Pro Football Hall of Fame voter, Ira busts out columns here every Monday, Wednesday and Friday, and his award winning podcasts fire Tuesdays and Thursdays. You can also hear Ira on SiriusXM Mad Dog Radio Wednesdays at 5 p.m. during football season. Also a TV start, see Ira now on Mondays at 10:30 p.m. on Spectrum Sports 360 (aka BayNews 9). Ira also is part of the FOX-13 Tailgate Sunday NFL show and enjoys beet salads, Riesling, Chiefs victories and needling Joe.