Countdown Series: Top 10 Bucs X-Factors For 2018 — What Didn't Make The Cut
July 14th, 2018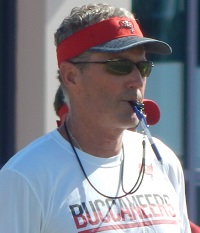 It all starts tomorrow, a daily countdown look at the top 10 X-factors for your 2018 Buccaneers season.
Joe is pumped!
Today, Joe will share a few things that did not make the cut — and why.
DeSean Jackson – Yes, the desired chemistry/connection between Jackson and America's Quarterback, Jameis Winston, could be important. But frankly, the Bucs have too many other receiving weapons for Joe to place that much importance on Jameis and Jackson becoming a special connection. If they're just ok — and a little better than last year — that should be just fine.
Gerald McCoy — Joe is a McCoy fan but sorry, Joe is not expecting McCoy to have some sort of breakout year at 30 years old. He routinely battles multiple injuries and Joe simply believes McCoy will turn in another McCoy-like season, So he can't be considered an X-factor.
Mike Smith — Man, Joe agonized about whether to include Smith as a stand-alone entry but passed. Yes, Smith was brutal last season. Brutal. But Joe expects some form of bounce back. Joe can't assume Smith completely forgot how to coach or has mailed in his career. He'll be a key but didn't crack the top 10.
Chandler Catanzaro – C'mon, did you even think Joe would wager $10.00 that the Bucs' new free agent kicker makes the roster? Joe, like every other Bucs fan, knows to be leery of Tampa Bay kickers in the post-Chucky era. Yeah, possessing a decent kicker very likely would have meant the Bucs beat New England on Thursday Night Football last season to go 3-1. Still, it's kicking, and other things are more important. Remember, Joe already advised you to keep an eye on Bucs undrafted rookie kicker Trevor Moore.
The Countdown kicks off tomorrow with No. 10. The lineup is set!