Countdown: Top 10 X-Factors For 2018 – No. 5
July 21st, 2018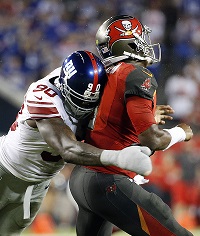 Only five days until training camp!! 
That means we're up to No. 5 on the countdown of the 10 X-factors for your 2018 Buccaneers season.
Enjoy!
No. 5 – Jason Pierre-Paul
This is one is as straightforward as it gets. If JPP turns in just the solid season he had in 2017, then the Bucs defense is massively improved from a year ago. It's literally that simple.
Close your eyes and think about the 29-year-old athletic freak with his hand in the dirt and delivering his trademark relentless and well-rounded effort. Envisioning that flashes Joe right back to 2012, when Michael Bennett was doing his thing off the edge for Tampa Bay.
That season, the Bucs defense was No. 1 in the NFL against the run with Bennett, Gerald McCoy, Roy Miller and the late Daniel Te'o-Nesheim taking the vast majority of snaps on the defensive line. The Bucs, though, complemented the great run defense with arguably the worst pass defense in league history, one that allowed an average of 297 yards per game through the air.
The Bucs have plenty of depth behind Pierre-Paul, which should allow him to stay fresh, but Joe isn't going to pretend Mitch Unrein and Vinny Curry are special players or talents. They're not.
JPP will earn $12.5 million for a reason. If he becomes the annual Bucs defensive line bust, then he probably pulls the whole pirate ship as we know it down with him.
No. 6 – Todd Monken Impact 
No. 7 – Ronald Jones
No. 8 – Contract Years
No. 9 – Ryan Fitzpatrick
No. 10 – Noah Spence
And just in case you missed Saturday's series introduction, here are four guys you won't see on The Countdown and why.