Countdown: Top 10 X-factors For 2018 – No. 9
July 16th, 2018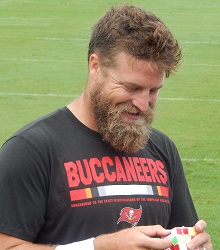 Oh, the drama is building. It's Joe's daily countdown look at the top 10 X-factors for your 2018 Buccaneers season.
Joe is pumped! Training camp is just 10 days away.
No. 9 – Ryan Fitzpatrick 
Is anyone happier than Fitzpatrick at One Buc Palace? At 35 years old, the dude is walking into an absolutely perfect backup quarterback situation.
First, he is sure to get a majority of first-team reps in training camp so he is ready to start the first three games of the season for Jameis Winston, as America's Quarterback serves an NFL-imposed suspension for inappropriate sexual touching of a female Uber driver.
The beauty for Fitzpatrick is nobody really expects him to look like a stud in those games against the Saints, Eagles and Steelers, and the Bucs will be underdogs in each. So if Fitzpatrick scores a win or two and plays well, he'll be an instant hero in Tampa. If he looks like a dud, then it's, 'Hey, he's a backup against playoff teams. What did you expect?'
Joe expects Fitzpatrick to come out loose, extremely confident and ecstatic to have so many pass-catching weapons around him.
If he can rise up and carry the Bucs to one win in the first three, then he'll have admirably set the table for Jameis. If Fitzpatrick wins two, then he'll have created one giant QB controversy for head coach Dirk Koetter. Fans will be screaming for Fitzpatrick to continue — bedlam in the Bay.
The Bucs' backup QB is one giant x-factor for this season, but the reality is he likely plays in just three games. So Joe can't place him any higher than No. 9.
No. 10 – Noah Spence
And just in case you missed Saturday's series introduction, here are four guys you won't see on The Countdown and why.