Countdown: Top 10 X-factors For 2018 – No. 7
July 18th, 2018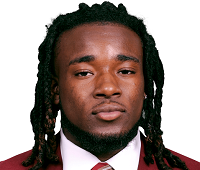 It's Joe's daily countdown look at the top 10 X-factors for your 2018 Buccaneers season. Today's No. 7 is about fixing a lingering Dirk Koetter headache.
Joe is fired up! Training camp is just eight short days away.
No. 7 – Ronald Jones
Explosive plays were the Dirk Koetter theme last spring and summer, but that plan did not materialize, even with DeSean Jackson in the stable. The Bucs were brutal when it came to what Koetter calls "explosives."
Now, Koetter has added one of college football's home run hitters, a true another-gear runner in 20-year-old rookie running back Ronald Jones, the No. 38 overall pick out of Southern Cal.
Heck, the Bucs could be a dominant offensive football team if Jones is the real deal. One could argue that Jones is the ultimate x-factor for this team. Peyton Barber is a good running back, Joe believes, but he doesn't have the juice of Jones and the elite backs in the NFL.
But will Jones prove himself quickly? Will Koetter's trust — and Jones' production — arrive soon enough for him to have a massive impact this season?
Joe wouldn't bet on it.
Heck, even Le'Veon Bell, the Steelers' all-world, 2013 second-round pick, had a slow start to his stellar career. Bell was injured in the 2013 preseason and in his first eight games, he racked up 141 carries but just 455 yards, a 3.2 yards per carry average.
Jones is nursing a hamstring issue that hopefully won't hinder his development.
No. 8 – Contract Years
No. 9 – Ryan Fitzpatrick
No. 10 – Noah Spence
And just in case you missed Saturday's series introduction, here are four guys you won't see on The Countdown and why.