ESPN: DeSean Jackson Will Be A Buccaneer Barring A Last-Minute Breakdown
March 9th, 2017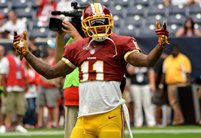 Sound the alarm!
The #WeaponsForWinston gang has started celebrating.
From the Twitter fingertips of ESPN uber insider Adam Schefter, wide receiver DeSean Jackson will be a Buccaneer as long as there is no last-minute breakdown in his contract negotiations.
Don't screw this up, Bucs! Joe is not concerned.
The field has now opened for America's Quarterback, Jameis Winston. No longer will teams get to ignore what lurks opposite Mike Evans, better known as Josh Huff, Russell Shepard, Bernard Reedy, Cecil Shorts and Freddie Martino, he of the velvet-lined lounge at the Vero Beach Ramada Inn.
Now the Bucs' offense has juice. (See this story from Joe earlier this year).
Jackson may not have a lot of years left at 30 years old, but he has at least two.
Joe's just excited because this move is as much about pumping more big plays to Mike Evans than anything else. Joe really believes Evans could challenge for the first ever 2,000-yard season with Jackson playing across from him.