Did Sabby And Raheem Have A Fistfight?
October 10th, 2010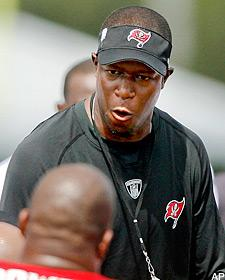 Peppered at his postgame news conference about apparent doghouse resident Sabby Piscitelli pressed into action today and bringing home the critical, game-winning interception, Raheem Morris dropped an interesting inference.
The two seemingly have had an ugly relationship since Sabby moaned about the unfairness of losing his starting gig to starting strong safety Sean Jones, who was injured on the opening play today.
Morris explained that although things might have gotten intense between him and Sabby, he always had it under control, even if it took an old fashioned fight.
"Me and Sabby have a great relationship," Morris said to the media. "We might even throw blows that we don't tell you guys about."
Did Raheem and Sabby resolve their differences like men? Joe's not sure where his money would go on that fight. Tough call, but Joe's going with Raheem.