Baker Mayfield: "It's The Whole Reason I'm Here In Tampa"
October 4th, 2023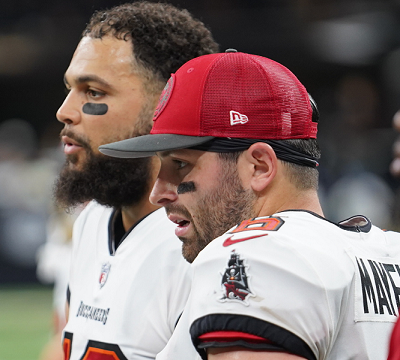 General manager Jason Licht and head coach Todd Bowles are crafty, intelligent men prone to painting pictures of Buccaneers reality that don't include every color, shade and nuance.
That's Joe's way of saying the whole truth isn't always delivered from the Bucs heiracrhy. And that's no knock.
It's not in the job description of Licht and Bowles to be candid with fans. Heck, Team Glazer has a long track record of preferring clandestine operations to accessibility and public communication. And, as the old business saying goes, it always starts at the top.
So what was Tampa Bay's quarterback and coordinator plan after Tom Brady retired?
What's been shared publicly is that Todd Bowles interviewed more than a dozen offensive coordinator candidates and Dave Canales, the guy he hired, is the one who was interviewed last.
Then the Bucs signed Baker Mayfield on the cheap in March free agency to compete with Kyle Trask (allegedly).
On the Conversations With Coach podcast released today, Mayfield is a guest with Bob Stoops, the former University of Oklahoma head coach and Mayfield's college coach with the Sooners.
Mayfield talked about getting claimed off waivers in December by the Rams, who told him it was a five-game marriage and he and head coach Sean McVay would make the best of it.
"The opportunity that gave me, it's the whole reason I'm here in Tampa. Because they run a similar system and that's why I'm here," Mayfield said of his month with the Rams.

"It was great to get to learn [the system] from a guy who knows it (laughs) extremely well. And then now my offensive coordinator, Dave Canales, he's running the same system based on somebody that worked with McVay that was in Seattle with him."
Joe was very intrigued by the emphasis Mayfield put on his time with the Rams being "the whole reason I'm here" in Tampa. And that he said it twice.
Considering Trask didn't know the McVay offense, did he ever really have a shot to win the starting job? Especially factoring in the pressure Bowles was under for a fast start to this season?
Joe is starting to wonder whether Canales and Mayfield were the Bucs' target hires as soon as the 2023 season ended, and the Bucs simply played their public interest very cool — too keep negotiating power on each guy.
When Mayfield was signed, Bowles called him "a natural born leader" and lauded his moxie (Joe hates that word) and their time together prior to the 2018 NFL Draft, but Bowles wasn't out there barking about system fit.
Now Mayfield is telling the world he landed in Tampa solely because he knew the offense.
Joe really enjoys the mysterious ways of the NFL.