"Does Winston Understand What He's Done Wrong?"
July 21st, 2018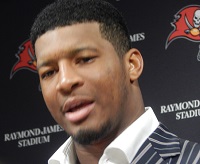 For years, America's Quarterback, Jameis Winston, has been very quick to say that he likes being coached hard. He wants that raw and rough feedback from all his coaches.
Jameis doesn't get offended, he says. It's the business of football and he loves having someone riding him to get better.
But does Jameis want that from his handlers, aka his agent and the various people guiding the messages Jameis puts out in the community and how they're perceived? Joe's not sure.
What is clear, though, is that one could make a great case that everyone associated with Jameis has done a substandard job shaping public perception of him. They have not been talented enough to overcome a player who seems to be a magnet for the negative spotlight.
Currently, Jameis is going through the process of finding a new agent, and NFL insider Mike Florio of ProFootballTalk.com and NBC Sports spoke about how Jameis might want to find representation that's willing to be very candid with Jameis about his behavior. (It's all in the video below)
Florio seems unsure that Jameis understands the gravity of his past actions and what he must do to repair his reputation.
"That's going to be one of the keys going forward: does Winston understand what he's done wrong and is he committed to avoiding anything that would remotely justify the kind of criticism that he's received over the years," Florio said.