Top 10 Bucs X-Factors For 2016 — No. 1
July 16th, 2016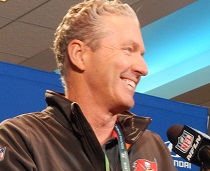 The Bucs have a pile of key question marks entering the 2016 season. Most teams do.
For this countdown series, Joe looks at this year's top X-factors, guys with question marks who could be great difference-makers, positive or negative, based on changes in their performances.
Dirk Koetter – No. 1 
Head coaching matters a hell of a lot in the NFL. It always has. And nobody knows if Dirk Koetter can get the job done. We can pretend Koetter is a veteran head coach because of his resumé, but he's a rookie.
That resumé reveals Koetter has been a top offensive coordinator, leading three different NFL offenses to top-10 rankings (total yards), including last year's Buccaneers. Koetter can maximize personnel (aka the essence of coaching) and make decisions, though he's not perfect. Joe vividly remembers Koetter screwing up at the goal line during the Capital Collapse last year.
It was 3rd-and-1 with the Bucs leading by three on the Redskins' 1 yard line with 2:31 remaining. The Bucs ran a pitch left to Charles Sims that lost two yards. It was a dreadful call that was doomed quickly.
"Let's everybody get this straight: I screwed it up," Koetter said of the play. "Nobody else. I screwed it up. Plain and simple. We had a check play on where we were checking on the goal line based on overload personnel. They had some injuries and switched some guys around. I gave Jameis bad information.

"One hundred – one thousand – whatever number you want to use – percent on me. Nobody else. Simple. Put that to bed. I screwed it up. I have to live with it. I feel horrible about it. I can't take it back. I did it."
Yes, coaches all make mistakes. But how many will Koetter make in 2016? What kind of learning curve will he have? Or, is Koetter's player-friendly but no-nonsense style and candid communication perfect for an NFL head-coaching chair?
Bucs fans have seen the effects of poor head coaching since the middle of the 2011 season. Joe and legions of fans know what crap coaching looks like.
Koetter looks the part and has a clean slate, but there's a ton of pressure on his back. He's the ultimate X-factor for a team in transition.
Vincent Jackson – No. 2
Mike Smith – No. 3
Kwon Alexander – No. 4
Jacquies Smith – No. 5
Brent Grimes – No. 6
Jameis Winston – No. 7
Charles Sims – No. 8
J.R. Sweezy – No. 9
Gerald McCoy — No. 10