Top 10 Bucs X-Factors For 2016 – No. 2
July 15th, 2016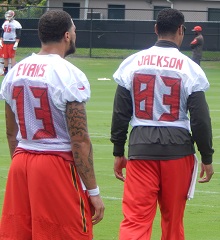 The Bucs have a pile of key question marks entering the 2016 season. Most teams do.
For this countdown series, Joe looks at this year's top X-factors, guys with question marks who could be great difference-makers, positive or negative, based on changes in their performances.
Vincent Jackson – No. 2
This was an easy pick for Joe, though many Bucs fans might find it controversial. But just look at what happened last year — and what didn't happen this offseason.
The Tampa Bay offense crumbled without Vincent Jackson, who missed eight games with two different knee injuries. The Bucs didn't have the depth to recover, and they didn't invest in receiving depth this offseason. Joe remains in disbelief at the latter.
So is V-Jax a 33-year-old embarking on the season that knocks him out of football after an injury-plagued campaign? Or is he a contract-year veteran, one who takes meticulous care of his body, waiting to explode for a new contract?
A down 2016 for V-Jax spells a sure losing record for the Bucs, Joe believes, and it forces their hand in the 2017 NFL Draft. A solid, healthy year, by Jackson's standards, takes a mountain of pressure off Mike Evans' K-Y hands and provides America's Quarterback, Jameis Winston, the diverse offense he deserves.
Jackson's season easily could swing either way.
Mike Smith – No. 3
Kwon Alexander – No. 4
Jacquies Smith – No. 5
Brent Grimes – No. 6
Jameis Winston – No. 7
Charles Sims – No. 8
J.R. Sweezy – No. 9
Gerald McCoy — No. 10