Top 10 X-Factors Of 2016 – No. 4
July 13th, 2016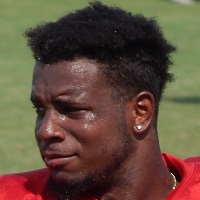 The Bucs have a pile of key question marks entering the 2016 season. Most teams do.
For this countdown series, Joe looks at this year's top X-factors, guys with question marks who could be great difference-makers, positive or negative, based on changes in their performances.
Kwon Alexander – No. 4
Lots of mystery and intrigue swirls around Kwon. First, how much playing time will he get?
Veteran newcomer linebacker Daryl Smith plays at a high level and is used to taking nearly every snap. Bucs defensive coordinator Mike Smith handpicked Daryl Smith and knows what he can deliver. So which linebacker is coming off the field on passing downs? It won't be Lavonte David, and most Bucs fans assume it will be Smith. But Joe's not ready to make that leap just yet.
Kwon's playmaking skills are undeniable, and clearly the Bucs missed him during their final-four nosedive of 2015. Suspended for using a banned substance, Kwon's season was over after Week 13 with the Bucs sporting a 6-6 record. Was Kwon so incredibly valuable? Or were Lovie Smith and replacement linebacker Bruce Carter just unprepared for the inevitable suspension?
The upside to Kwon is his youth and work ethic. Most dedicated players make a significant leap from Year 1 to Year 2, and Kwon should fit that mold in 2016. He's also still just 21 years old.
There's an edge and a swagger to Kwon that is common to great players — and far too uncommon in the Bucs' locker room over the past five seasons in the NFC South cellar. Kwon very well could be the total package, but he's got so much to prove.
Jacquies Smith – No. 5
Brent Grimes – No. 6
Jameis Winston – No. 7
Charles Sims – No. 8
J.R. Sweezy – No. 9
Gerald McCoy — No. 10