Top 10 X-Factors Of 2016 – No. 3
July 14th, 2016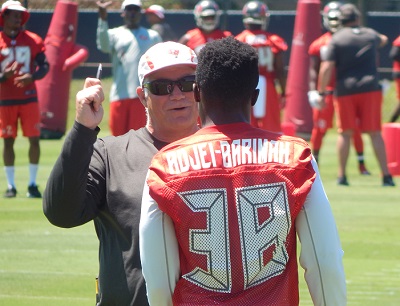 The Bucs have a pile of key question marks entering the 2016 season. Most teams do.
For this countdown series, Joe looks at this year's top X-factors, guys with question marks who could be great difference-makers, positive or negative, based on changes in their performances.
Mike Smith – No. 3
A hell of a lot has changed in the NFL since the 2007 season. That's the last year Bucs defensive coordinator Mike Smith called all the shots for a defense. He used multiple coordinators while Falcons head coach.
Reality reveals Smith inherits a Bucs defense that was broken mentally and lacking physically. Smith has one hell of a job on his hands to prepare a defense for opening games at Atlanta and at Arizona.
Thankfully, the Bucs added serious talent on defense. Veterans Brent Grimes, Robert Ayers, and Daryl Smith should be welcome glue for Smith's transformation operation, but still, so much falls in Smith's lap. With Dirk Koetter admitting he's focused on full-team and offensive issues, Smith has full control.
Remember when Daryl Smith told a national radio audience that he didn't remember Mike Smith having so much volume in his defensive playbook? If not, you can refresh your memory here.
That tells Joe that Mike Smith is gunning for a high standard and high-efficiency out of the gate. Just guiding a defense learning a new system is always a challenge, especially with so many battered psyches after two seasons with Coach My Scheme. Smith's ability to gauge what his players can handle early will be a massive key to this season.
Kwon Alexander – No. 4
Jacquies Smith – No. 5
Brent Grimes – No. 6
Jameis Winston – No. 7
Charles Sims – No. 8
J.R. Sweezy – No. 9
Gerald McCoy — No. 10