Team Glazer Rewind
April 10th, 2016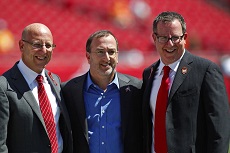 Loyal readers here know Joe enjoyed 1-on-1 time with Bucs owner Joel Glazer, a proud member of Team Glazer, at the NFL Owners Meetings last month. 
Joe has shared plenty already from the enlightening discussion.
For the those who missed it, it's all below via the linked headlines. Yes, Joe still has more to share but is saving for the right moment.