Joel Glazer Talks About Marketing Jameis
March 24th, 2016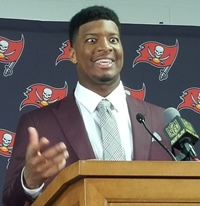 Bonding in a corner of the swanky Boca Raton Resort & Club on Tuesday, the annual Team Glazer-to-Joe chat continued on the subject of America's Quarterback, Jameis Winston.
(The first two installments are here and here.)
Joe asked Joel Glazer about the marketing of Jameis. Last year, it seemed the team held back. Clearly the most popular guy on the team from the day he arrived, Jameis did not get a Buccaneers Radio Network show, he wasn't teamed up with a bunch of Bucs corporate partners on promotions. Also, the Bucs were passing on media requests for Jameis.
Why were the Bucs holding back? Was it about putting to much on the plate of a 21 year old?
Essentially, Glazer said it was more about keeping things real for a rookie and for fans.
"I think, you know, it's always best done naturally," Jameis said. "So a lot of times you can try and create something that hasn't happened yet with marketing and all that stuff. Or, you can let the person's talent lead the way and then it grows from there. It's always been a conscious effort with our players; they gotta prove it and develop it on their own, and then it goes from there. When you try and do something unnaturally, or try and force it, people see through it. You put a lot of undue pressure on a player, and you're getting ahead of yourself.

"So we expect a nice long career for Jameis Winston, a successful career. There will be plenty of time and places for all of that. But right now focus, work hard, and everything else comes along with that."
Yes, more face-of-the-franchise type promotion is in store for Jameis in 2016. Joe learned that from other sources.
Regardless, Joe likes the healthy approach to Jameis by Team Glazer. It would have been so easy — and profitable — for the Bucs to have whored Jameis out last year and raised the profile of the franchise. Instead, Team Glazer chose patience.