"Really Kind Of Beat Them Into" Buccaneer Way
September 4th, 2012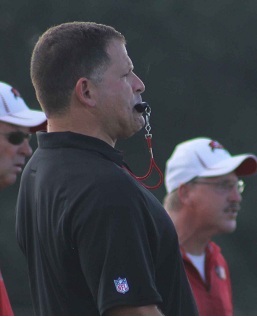 Rockstar general manager Mark Dominik chose quite a phrase to describe how the New Schiano Order tried to instill its mentality and work ethic over the past six weeks. 
Speaking this afternoon to the dean of Tampa Bay sports radio, Steve Duemig, on WDAE-AM 620, Dominik said Schiano was "hard on them" and the team practiced in pads just about as often as possible since training camp began "to really kind of beat them into understanding what we want to be as an organization, what we want to be as a football team. And I thought our football team really responded well."
Anyone watching Bucs training camp and other practices knew Schiano was a bit of a taskmaster, from no hands on hips and no shade/cooling tents to the water bottle policy, to essentially embracing the elements and the vomit they can bring forth.
Clearly, Schiano was molding his "Buccaneer Men" and trying to break those who couldn't stomach it.
Remembering how hard training camps used to be with endless two-a-days and such at the University of Tampa, Joe's hardly feeling sorry for current players. But it's fun to hear the GM say the goal was "to beat them into" a tough team.