Tiquan Underwood Still On Bucs' Radar
September 5th, 2012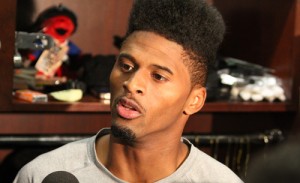 Probably the most shocking of moves last Friday night when the Bucs cut their roster down to the league-minimum 53 players was the release of wide receiver Tiquan Underwood.
Underwood made play after play in training camp practices and did enough in games to show how he could stretch the field that it seemed guys like Sammie Stroughter and/or Preston Parker should be concerned about job security.
Alas, Underwood was released. Bucs coach Greg Schiano all but said the decision to release Underwood was his limited ability to provide help on special teams. It's a line of thinking that Bucs rock star general manager Mark Dominik reinforced when he spoke to Booger McFarland and Todd Wright on WHFS-FM 98.7 Tuesday afternoon.
Not only did Dominik say Underwood's lack of special teams acumen did him in, he also said that it's not out of the question that Underwood returns to the Bucs.
"Underwood is not practice squad eligible so how do you use him on gameday? What is his ability and role and how do you make it work? Tiquan is a guy we will still continue to stay in contact with. Whether he ends up back on this roster at some point during the season, it's a possibility. He is certainly not a guy that we have walked away from. So we will see what happens.

"He has a chance to [find work on] another roster but you have to go with the guys who you feel can help you in all three phases of the game or on all four downs of a football game."
Given the news from yesterday that Preston Parker has been pulled off return duties, largely due to his nasty habit of putting the ball on the ground during returns, it makes Joe wonder if Parker was that valuable in other special teams areas because he still was able to stay on the roster over Underwood.