Scotty Miller Goes To School
July 2nd, 2022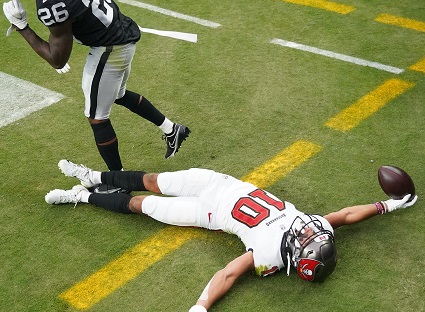 The whole vibe surrounding Bucs receiver Scotty Miller has Joe confused.
Miller transitioned slowly during his rookie season out of mighty Bowling Green State University. A year later in 2020, Miller quickly became Tom Brady's BFF and vaulted his way to postseason-hero status after a 33-catch, 501-yard regular season.
During that Super Bowl season, Miller was one of the fastest receivers in the game and the fastest guy on the Bucs, per various chatter coming from One Buc Palace.
But last year, Miller suffered a nasty early-season turf toe injury, missed a bunch of games, and then sort of disappeared from the lineup. It happens. But what Joe doesn't understand is why so many fans now seem to be writing off now-healthy Miller as a major player in the offense.
Miller turns 25 later this summer and is a fourth-season veteran in a contract year. He's also added 15 pounds of good weight and is one of the most determined dudes in the Bucs' locker room. Shouldn't fans expect Miller to be back to his 2020 form?
It wasn't long ago that analysts were saying Miller was more of a big-play threat than Antonio Brown, but now Miller is more of an afterthought for so many (not including a starting Colts cornerback).
Joe is not taking the bait.  A healthy Miller is a very special weapon for the Bucs, especially if Russell Gage is ready to go alongside Mike Evans early this season. Joe is confident there are more than a handful of corners who want know part of Miller sticking with Miller 1-on-1.
As for the headline here, Miller has been working hard this summer at Receiver School (video below).
Split Release work with @MillerTime___10 pic.twitter.com/HetxL7feWd

— Receiver School (@ReceiverSchool) July 1, 2022