Bucs By "Four Or Five Games"
July 2nd, 2022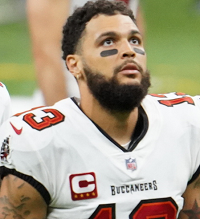 You can drop $1,000 on the Bucs to win the NFC South today at the Draft Kings sportsbook and they'll pay you $1,333 when/if the Bucs are crowned division champs.
A name well known to Bucs fans thinks that wager is a runaway winner.
Last season, Tampa Bay won the division by four games. They finished 13-4 while the Slimy Saints took second with a 9-8 record.
Speaking on SiriusXM NFL Radio, former Buccaneers general manager Mark Dominik, the network's draft guru, said he believes the Bucs will win the NFC South this season by "four or five games."
"Too good of a football team. Too good of a quarteraback," Dominik said, noting specifically that the Bucs and Brady are a far better bet than Jameis Winston staying healthy coming off major knee surgery.
As for the Panthers and Falcons, Dominik said he doesn't have clear view now on which team is better, but he doesn't see either challenging for the top of the division.
Joe wonders if general manager Jason Licht and Todd Bowles see the Bucs as destined to cruise to the division title, assuming Tom Brady stays healthy. That kind of confidence can be very dangerous, but it also could shape the Bucs' decision-making — and patience — when it comes to making quick moves to replace Rob Gronkowski or to add to the pass rush.
For those wondering, Joe wouldn't make this type of futures bet in early July. Too many variables for those kinds of odds, and too much money to tie up for six months.