Chris Simms: Scotty Miller Right There With Antonio Brown
March 26th, 2021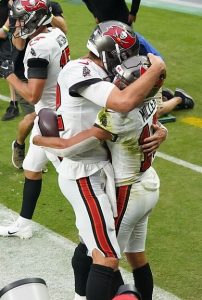 Yes, it was explosive little Scotty Miller who led the Buccaneers in yards-per-catch last season, and he crushed it through the playoffs at 20 yards per reception.
With all the swirling talk about Tampa Bay potentially bringing back furniture-tossing, bicycle-throwing receiver Antonio Brown, former Bucs quarterback Chris Simms is slamming on the brakes.
"Antonio Brown … they don't really need him," Simms said on PFT Live today.

"Like you heard me say toward the end of the year, you certainly could argue Scotty Miller is right there with Antonio Brown as far as the talent he has. Maybe not quite the route runner, but more of a big-play threat with his speed and things like that. So I think it's the same thing [with Leonard Fournette]; they're not going to overpay [Fournette or Brown] by one dollar. It's going to be on [the Bucs'] terms."
Brown is valuable; there is no dispute. No Buccaneer averaged more targets per games played than Brown in 2020.
However, how much more valuable is Brown than Miller, who is the greater deep threat? Miller is a fantastic complement to Mike Evans and Chris Godwin, who thrive on medium routes. And now Miller is a proven commodity, a postseason hero who gutted through injuries early last fall.
Plus, if the Bucs actually plan to keep O.J. Howard, Cameron Brate and Rob Gronkowski, then it's even easier to agree with Simms on the Brown-Miller debate — and that's without mentioning receiver Tyler Johnson.
Amidst all this chatter, All-Pro returner Cordarelle Patterson, Tom Brady's old buddy, remains on the street.