Cornerback Names Scotty Miller As NFL's Fastest
May 30th, 2022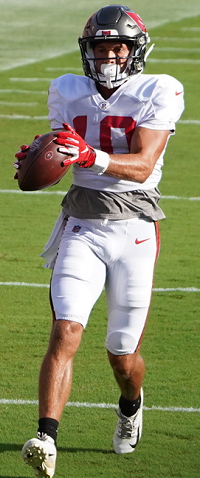 Some view Colts cornerback Isaiah Rodgers as solid NFL ball hawk with strong returner skills.
Others view the hometown Tampa product as a 2020 draft pick with a solid pedigree that got away from Bucs general manager Jason Licht.
Regardless, Rodgers has had an impressive two seasons as the final pick of the sixth round in 2020. He's a good returner and finished last season with three interceptions, including one against Tom Brady in the Bucs' thrilling comeback win in Indianapolis.
Joe listened to Rodgers on the Evol Entertainment podcast recently and he was asked to name the fastest player in the NFL. Of course, he named himself, but then quickly named Bucs receiver Scotty Miller followed by Tyreek Hill.
A cousin of two-time Pro Bowl cornerback Dominique Rodgers-Cromartie, Rodgers added names of fast Colts players but acknowledged nobody will ever know the truth on that issue. Still, the only non-teammate receivers he named were Miller and Hill.
Joe thought it was very cool of Rodgers to name Miller. It says a lot about what a healthy Miller this season can bring to the Tampa Bay offense — hopefully the stuff he brought in 2020.
Regarding Rodgers' 72-yard kickoff return against the Bucs with 10 seconds remaining in the game, fans will remember that Bucs safety Mike Edwards made the game-saving, one-handed tackle.
Rodgers explained that Edwards was the guy intentionally left unblocked on the return and he made a strong play, though Rodgers blamed himself for not cutting back late in the run.