Praise For Dirk Koetter's August "Change-up"
July 13th, 2016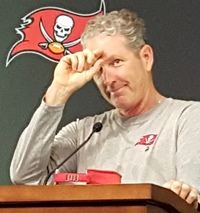 Has another NFL team scheduled a total of four training camp practices against a total of two teams?
Joe knows of none other than Dirk Koetter's Buccaneers.
Koetter believes deeply in battling strangers to prepare for the regular season. Lovie Smith thought the practice was senseless.
Bill Belicheat, however, is known to embrace the practice. Greg Schiano's Buccaneers hosted New England during training camp 2012, and the Bucs got off to a great start that year. The Patriots welcomed Tampa Bay in 2013, and the Bucs started the season 0-8.
There's no "right" or "wrong" approach, but tight end Luke Stocker told Joe he's pumped up to practice this summer against the Jaguars and Browns. He thinks it's valuable, "a good change-up," Stocker said, that will help the team mentally.
Asked about Lovie passing on joint practices, Stocker said coaches have their reasons.
"Every coach has his own way. Some people, like, they don't want other teams to scout and pass on something about another team," Stocker said.
Joe loves the concept of joint practices. It's a learning opportunity for America's Quarterback, Jameis Winston, that simply can't be duplicated in traditional practice.
(Here's Joe's update on the August practices in Jacksonville.)