The Tedford Two-Step
September 3rd, 2014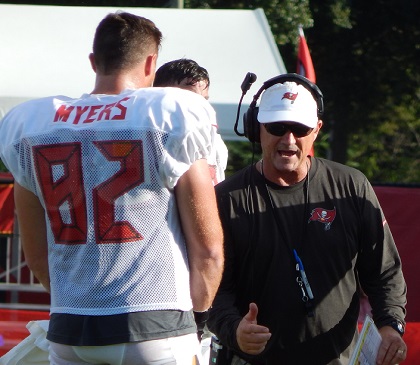 Lovie Smith doesn't seem to be a big fan of questions about offensive coordinator Jeff Tedford this week.
The Tampa Bay head coach was peppered with queries Monday after it was learned Tedford's ongoing health/recovery prevented him from being at practice — six days from opening day.
Does Tedford's physical absence matter? Several former Buccaneers have been on local radio airwaves this week saying it absolutely matters in a huge way.
Lovie, however, is playing it cool, talking about how technology is keeping Tedford as an active participant and repeating that the Bucs will be releasing little information on the subject.
You can watch Lovie get a little frustrated by Monday afternoon's Tedford inquisition in the SportsTalkFlorida.com video below. The Bucs are back on the practice field this afternoon. No word yet on whether Tedford will be there.