The Countdown: Worst 20 Buccaneers Of The Past 10 Years — No. 5
July 20th, 2014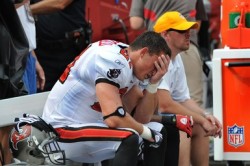 Endless Top-Whatever lists across the Internet got Joe thinking of the Tampa Bay drought since their Super Bowl glory. Not a playoff victory since! And that motivated Joe to rank the 20 worst Buccaneers of the past 10 years.
Serious deliberations went down at JoeBucsFan.com world headquarters.
Beers bottles were thrown. Game film came out. Arguments ensued.
Wild, naïve interns were screaming for sleepy, leaky, Josh Freeman to be ranked No. 1. In the end, primary consideration was given to expectations combined with on-field performance. Off-field behavior was a factor, and players were not punished for injuries.
No. 5— safety Sabby Piscitelli (2007-2010)
Tampa Bay's second round pick in the 2007 NFL Draft, Sabby The Goat Piscitelli, was perhaps the worst tackling defensive back in Buccaneers history.
While taking an angle to a ball carrier or a receiver on the fly, Sabby The Goat often looked geometrically challenged, or like a typical tailgating drunk Bucs fan trying to get under a deep Nerf ball pass in a stadium parking lot.
Amazingly, after proving nothing and beating out nobody, Sabby The Goat was gifted a starting job in 2009. What ensued led to the following quote from Raheem Morris with a game remaining in the '09 season:
"It's tough to do. You've got to be in better position to make plays," Morris said of Sabby The Goat. "You've got to do a better job of making plays. That's what we've got to find out this offseason. We've got to go back to the board with him and fix him and deal with (him)."
You know you've hit rock bottom when your head coach, a defensive backs guru no less, says you're so bad you need to be "fixed" in the offseason.
Sabby the Goat lost his starting gig that 2010 offseason when the Bucs signed serial loafer Sean Jones (to be fair, Jones didn't start loafing until 2011).
Sabby The Goat was unhappy and the buzz was he had a physical altercation with Raheem. That talk came from Raheem himself before Sabby The Goat was cut a few weeks later while Tampa Bay made a push for the playoffs.
The interesting thing about Sabby The Goat was his work ethic. The guy took extra work in training camp on his own. He loved the blocking and tackling sled. He was in peak physical condition and he was healthy. He just stunk out loud. Sabby The Goat last played for the Chiefs in 2011, and failed in a comeback attempt with Jacksonville in 2013.
No. 6 — Myron Lewis
No. 7 — Byron Leftwich
No. 8 — Edell Shepherd
No. 9 — Jerramy Stevens
No. 10 — Jim Bates
No. 11 — Gaines Adams
No. 12 — Keydrick Vincent
No. 13 — Dre Moore
No. 14 —Kevin Ogletree
No. 15 – Sean Mahan
No. 16 — Da'Quan Bowers
No. 17 — Daniel Te'o-Nesheim
No. 18 — Kyle Moore
No. 19 – Jeremy Trueblood
No. 20 – Michael Clayton
The Countdown: Worst 20 Buccaneers Of The Past 10 Years will run once or twice daily until No. 1 is revealed on Thursday, July 24.