"Cannon" Investigation
May 31st, 2014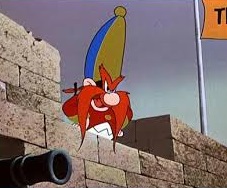 Bucs general manager Jason Licht remarked recently how Mike Glennon has displayed a "cannon" of an arm.
New starting center Evan Dietrich-Smith said the same thing — "a freaking cannon" — to a national radio audience this week, and Josh McCown has talked about Glennon's velocity, saying "he can really spin it."
Now Joe doesn't think those guys are fabricating anything, but Joe doesn't see a "cannon" on No. 8, nor did Joe see it last season. Joe also doesn't recall various analysts and Bucs teammates remarking about the rocket arm of Glennon last year.
Joe spoke 1-on-1 to all kinds of ex-NFL players during Super Bowl Media Day about Glennon. Joe got all kinds of evaluations, including from the likes of Warren Sapp, Kurt Warner, Amani Toomer, Rich Gannon, Gil Brandt and others. Joe heard good and bad about Glennon, but Joe never heard "cannon" chatter.
So what is going on?
Perhaps Glennon has benefited from being coached by two quarterbacks gurus and former QBs in Jeff Tedford and Marcus Arroyo? Maybe the "5 to 10 pounds" of muscle Glennon added this offseason, so Glennon told Joe, is making a difference?
Again, Joe hasn't seen new arm strength in practice, but Joe isn't welcome to watch every second Glennon trains.
Many readers here believe Joe has some sort of hatred of Glennon and/or wants Glennon to fail. Neither is true. Joe just wants the Bucs to win Super Bowls, and Joe doesn't think Glennon has the potential to get them there. That's why Joe was hoping/praying the Bucs would have drafted Johnny Football or Teddy Bridgewater.
Maybe Glennon does have a "cannon" now. But that doesn't mean it will appear when the real whistles blow. Some guys are practice greats, and aspects of their games fall back a notch or two when things get real.
Joe plans to do more investigation into the Glennon cannon in the coming weeks. Of course, Joe will share all sides of the research.