Here Comes The Stench Of Cheese
May 31st, 2014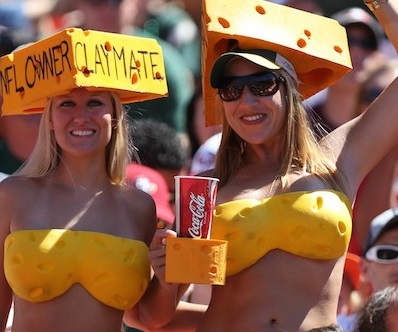 Joe's been around these parts long enough to remember how the massive "Packer Backers" fan club used to pack the now defunct Turtle Club in Clearwater (what a fun place that was) wearing goofy gear to cheer their favorite team and share memories of all the beautiful women they knew on cheese farms outside of Green Bay.
The Packers would come to play their annual division game in the Old Sombrero, and these fans and their friends would gobble up tens of thousands of Bucs tickets and turn the Bucs' beloved home into a cauldron of cheese.
It seems that atmosphere is returning to Tampa.
The Bucs-Packers game in Tampa on Dec. 21 is now sold out of single-game tickets, per Buccaneers.com. A special home-page message says only those prepared to become season ticket holders can get a hold of a seat through traditional channels.
The last time the Packers were in town was in 2009, when some rookie quarterback spread passes around to Kellen Winslow, Maurice Stovall, Sammie Stroughter and Derrick Ward en route to his first win — what weapons he had! — overcoming an 11-point, fourth-quarter deficit against a playoff-bound Packers team.
What a great memory! Scoring in the second half of games is so cool.
Joe's got mixed feelings about the "sold out" announcements. Joe's happy for the tourism these Cheeseheads will bring the Tampa Bay area before Christmas, and Joe loves to see a full stadium. There's no better way to score a victory for the good guys. But a sea of drunken Packers fans is always annoying and downright dreadful.
Man, Joe sure hopes the Bucs sell out opening day against Carolina with nothing but red in the crowd and a scant handful of blue Tiquan Underwood jerseys.